---
2017 – International Year of Sustainable Tourism for Development
The United Nations (UN) has declared 2017 as the "International Year of Sustainable Tourism for Development" to celebrate and promote the contribution of the tourism sector to building a better world. The International Year aims to support a change in policies, business practices and consumer behavior towards a more sustainable tourism sector that can contribute effectively to the Sustainable Development Goals (SDGs).
---
Good Samaritan Policy
The Delhi government has recently approved 'Good Samaritan Policy' under which monetary incentive of Rs 2,000 and appreciation certificate will be given to people who help road accident victims in the national capital. The scheme is intended to encourage people to take accident victims in emergency situation to hospitals so that someone's life could be saved.
---
Black rice gains popularity in Assam
An exotic variety of Black rice or purple rice recently has gained popularity in Assam. It was recently sown by the local farmers for the first time in Barak Valley. The Black rice is also known as world super food because of its high nutrition value, unique texture and intriguing nutty flavor. It is known for its powerful disease-fighting antioxidants and also contains dietary fiber, anti-inflammatory properties. It has the ability to help stop the development of diabetes, cancer, heart disease and even weight gain.
---
100 crore for Nobel Prize
Andhra Pradesh Government has announced a monetary reward of Rs 100 crore to anyone from the state government who wins Nobel Prize. It was announced by Chief Minister N Chandrababu Naidu while addressing the inaugural function of the children's science congress on the sidelines of the 104th session of the Indian Science Congress in Tirupati. This reward is about 17 times more than the prize money given out with the Nobel award which is about Swedish kronor 8 million (Rs 5.96 crore). With this Andhra Pradesh becomes first state in India to announce such a grand offer to its scientists.
---
"Digital Unlocked"
Google global CEO Sundar Pichai has recently launched "Digital Unlocked" a training program for Small and Medium Businesses (SMBs) and startups to go digital in India in partnership with Ministry of Information and Technology and the Federation of Indian Chambers of Commerce and Industry (FICCI) at a Google event in New Delhi.The purpose of the program is to empower upcoming and existing Indian SMBs with essential digital skills which will help them to get online and use internet so as to grow their business. Apart from this, Primer app and My Business Website were also launched to help SMEs to learn digital marketing skills.
---
Injeti Srinivas committee
The Union Ministry of Youth Affairs and Sports has recently constituted a committee to suggest improvements in the National Sports Development Code (NSDC) and functioning of Indian Sports Federation. The committee will be headed by Injeti Srinivas, which will suggest improvements in the present NSDC on the basis of suggestions and feedback given in these meetings and submit a report within a month so that Sports Bodies work as per the public expectations for the promotion of sports in India.
---
Gujarat CM dedicates India's first laser technology-based check-post
India's first laser technology-based advanced Automatic Vehicle Monitoring System (AVMS) RTO check-post has set up at Shamlaji of Aravalli district in Gujarat. The check-post is equipped with advanced ray technology with a cost of Rs 4.72 crore, which will help to eliminate irregularities and interventions done by middle-men. The advanced AVMS RTO check-post will provide transparent, sensitive, decisive and progressive government to the people.
---
"Scroll of Honor" award to the District Collector of Ajmer
Ajmer district collector Gaurav Goyal has been awarded 'Scroll of Honor' by Prime Minister  for encouraging cashless transactions in the district. The award was given for plethora of measures taken by the collector post demonetization to encourage cashless transactions and ensure law and order.
---
India's first transgender school "Sahaj International"
India's first transgender school "Sahaj International" has started at Thrikkakara in Kerala's Ernakulam district. It was inaugurated by transgender activist, writer and actor Kalki Subramaniam. The purpose of Transgender School is to provide transgenders security, salvation and sustainability. The new learning centre will help them continue their education and appear for Class X and XII examinations.This alternative learning centre works in collaboration with National Institute of Open Schooling (NIOS).
---
Ratan Watal committee on Digital Payments
The govt's digital payments panel, headed by former finance secretary Ratan Watal, was set up to suggest ways to encourage India's movement towards a cashless economy.The committee has suggested a separate regulator to deal with issues concerning payment, among others. The report suggested a host of fiscal incentives to promote digital transactions. It suggested withdrawal of all charges levied by government departments and utilities on digital payments and making it mandatory for government departments and agencies to provide option to consumers to pay digitally. The report also suggested putting a special emphasis on digital payments for recurring low value transactions and reducing custom duties on payments acceptance equipment. The committee has also suggested instituting awards to promote digital transaction.
---
'Caterpillar Train (or C-Train)'
The Haryana Government has plans to set up a pilot corridor for an innovative concept of 'Caterpillar Train (or C-Train)' that will fly over city's traffic, in Gurgaon city. The C-train includes a citywide network of lightweight, elevated train coaches running at about 100 kmph on a track supported by poles bent into arches. The cost is about $3 million for a pilot system and approx $20 million for full-fledged automated system.The concept of C-Train was co-developed by an Indian Railways engineer Ashwani Kumar Upadhyaya along with Emil Jacob for which they won a global award at the Massachusetts Institute of Technology (MIT) in the United States in 2016 for this innovative idea.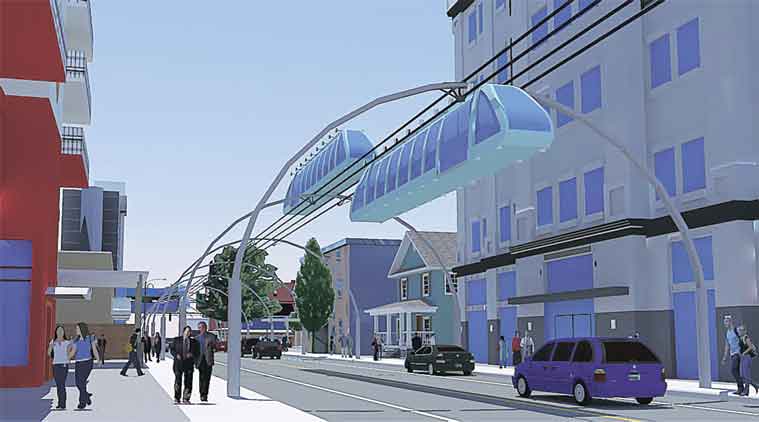 ---
BHIM – Bharat Interface for Money
Prime Minister has recently launched an Aadhaar-based mobile app "Bharat Interface for Money (BHIM)" to promote easier digital payments and transactions at Digi Dhan Mela at talkatora stadium in New Delhi. The Bhim app is named after Dr B R Ambedkar and will empower small traders, tribals and farmers. The app is inter-operable with Unified Payments Interface (UPI) and it connects directly to your bank account. The application is developed by the National Payment Corporation of India (NPCI). The application allows users to check the bank balance directly from the app. There is a limit of Rs 10,000 per transaction and a 24-hour limit of Rs 20,000.
---
"Swachh Swasth Sarvatra"
The Swachh Swasth Sarvatra is a joint initiative of the Ministry of Health and Family Welfare and the Ministry of Drinking Water and Sanitation to achieve better health outcomes through improved sanitation and increased awareness and healthy lifestyles. It has been launched to strengthen Community Health Centres (CHCs) in 708 Open Defecation Free (ODF) blocks in India to enable them achieve higher levels of cleanliness and hygiene. Under it, Rs. 10 lakh of financial assistance will be given to the CHCs so that they can be strengthened to meet the standards of sanitation, hygiene and infection control. The initiative is a part of the Swachh Bharat Mission, under the National Health Mission. It is focused on the twin objectives of constructing toilets and enabling behavioural change, with the goal of making India Open Defecation free by 2nd October, 2019.
---